For more than 50 years, Momaney Painters has been providing commercial and residential painting contracting in the public and private sectors, serving thousands of commercial and residential property owners. We happily work solo or in tandem with other contractors. We pride ourselves on a product that is delivered in a timely manner, safely and in a cost effective way.

Commercial
From warehouses to office buildings, to manufacturing plants and storage tanks, one floor or many, utilizing the latest technology in coatings and application techniques, our highly skilled team is ready to tackle commercial projects. Our team is trained and certified in the use of aerial lifts.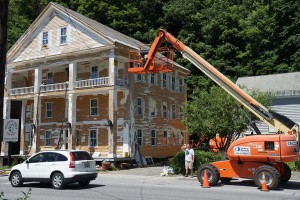 We have provided exterior painting and interior painting services for thousands of commercial projects including:
Retail stores/malls
Office buildings (occupied and unoccupied)
Schools
Banks
Hotels
Restaurants
Churches
New construction
We will go the extra mile to ensure the successful completion of your project with minimal disruptions. We respect that time is money and will work to ensure that the job runs smoothly.
For more than 50 years, Momaney Painters has built a business based on quality work, responsiveness and competitive pricing. Whatever your project, you can trust that we will not let you down.
Residential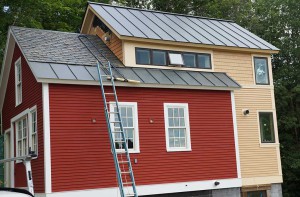 Painting a house, whether the interior or the exterior, can be rewarding. Accomplishing a durable paint job that looks professional, however, may be another story.
Without a doubt, the biggest advantage to DIY painting is lower labor costs. Expenses such as primer, paint, paintbrushes, drop clothes, etc. are needed regardless of who does the work. In fact, saving labor costs may be the only valid argument for DIY painting.
Why DIY Painting Isn't the Best Idea
DIY projects can be both rewarding and fun. Some DIY projects, however, are probably best left to professionals. We think that painting might be one project that falls into that category.
Momaney Painters' Top 10 Reasons to Hire Professional Painters
Painting takes a fair bit of time. Re-painting a medium-sized house can take up to 100 hours* including prep time. If the homeowner works a full-time, it could take quite a few months of working only weekends to get the job done that a painting team can do in a few days to a week. (*can vary significantly depending on house size, repair needs, etc.)
Professional painters are covered by insurance and can make things right, in the hopefully unlikely event that something goes wrong.
A proper paint job requires skill, the proper tools, and the right products to accomplish a professional looking finish.
Since ladder accidents involve falls from step ladders, from 2' to 6' high, hiring a professional may mean avoiding injury. The higher the walls/ceiling, the more likely injury will become a factor.
Professional painting companies have the right tools for achieving the best outcome. For infrequent painting, it doesn't make a lot of sense for homeowners to purchase and store high-quality supplies and equipment.
An inexperienced painter may not understand the importance of choosing the proper paint brushes or rollers for certain types of paint. Again, this knowledge and experience can make or break a professional looking and durable finish.
The toughest parts of a paint job – much of which include preparation – are standard protocol for a professional. They don't skip steps because they know each part of the painting process is a stepping stone to the next.
Professionals know the paints that will produces the best results, both for beauty and durability. They might also give you an honest opinion on colors – dark or light…warm or neon – based on experience with how those colors will play out in a particular space.
Everyone knows how important clean lines are to a professional look. Painting contractors know when taping is needed and when it can be avoided with an experienced and steady hand.
Professional painters are familiar with common problems and how the best practices to avoid them. They know the tricks of the trade because painting is what they do, every day.
Setting aside money to hire professional painters when new interior or exterior paint is great use of your hard-earned money because for most of us, our homes are likely our biggest and most valuable asset. It it pays to protect it.
Still struggling with the decision between DIY or hiring a professional? Consider what Bob Vila (This Old House) has to say: http://www.bobvila.com/articles/372-painting-the-house-should-you-hire-a-pro
Contact Momaney Painters for a free estimate for your painting needs, inside or out…big or small. You can count on us to for a smooth and efficient painting project.