Although we are not able to leap tall buildings in a single bound (with apologies to Superman), we have painted dozens of multi-story properties including town halls, schools and churches with high steeples.
We are adept at operating boom lifts, often referred to as cherry pickers, that allow us to access nearly impossible to reach areas where ladders and scaffolding are not an option. Areas that are difficult to access are no problem for our experienced team.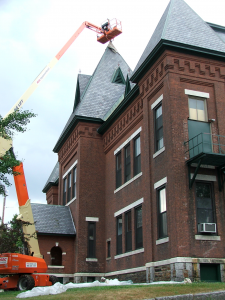 Similar to pressure washers, adventurous property owners can rent aerial truck equipment but there is a steep learning curve and cost; boom lift rentals run $250-$400 per day, or $1,000 to $1,500 per week.
Overhead wires, soft ground, septic tanks or other buried objects are all hidden dangers that can lead to a deadly experience for the home owner. Driving a 35,000 pound machine with a toggle switch is something that needs to be learned in a safe environment and maybe not while the clock is ticking on a rental. Lastly, the companies that typically rent large equipment require a credit history so it's probably best just to leave the vertical work to the professionals.
Whether you are a homeowner with a small project or a business owner with a large project, we have the experience and skills that will leave you delighted you hired Momaney Painters to take care of your painting needs.