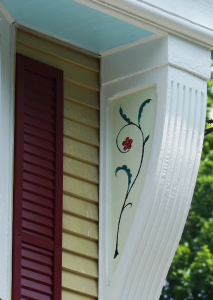 New England is a great place to live but the harsh, wet winters and hot, sunny, humid summers can wreak havoc on the exterior of your property. Moisture in particular can damage exterior paint, clapboards and trim and cause rot. Despite this, and because exterior painting can costs thousands of dollar, many people put off painting the outside of their property until it becomes a real problem. Unfortunately, waiting too long can end up costing more in the future.
The good news is that with regular care, using proven methods and materials, most of Mother Nature's elements can be minimized over time. By focusing in on problematic areas, using best-in-class painting practices and top-notch painting materials, Momaney Painters can produce longer-lasting results that protect your investment.
Preparation is Key
We can also provide just the preparatory work – which is one of the more difficult aspects of exterior painting – if you prefer to do your own painting. We have the tools, skills and expertise to prepare your building for painting (i.e., scraping, sanding, wood repair, etc.), in a way that the average homeowner cannot do. We can also provide repairs where needed.
Color Schemes That Appeal
Like our interior work, Momaney Painters can help you with a coordinated exterior color scheme that appeals to your sense of aesthetics as well as the best compliment of your building's architectural characteristics.
We can chemically strip delicate, detailed areas such as the corbel shown above and hand paint them to bring out the beauty of the intricate details.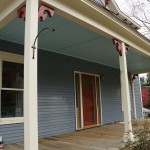 Momaney Painters has graced hundreds of porch ceilings with Moe's signature blue that changes color slightly, depending on the light and location. Moe's signature blue is slightly lighter and brighter than some of the traditional robin's egg blue ceilings. After you see it once, it's easy to pick out porch ceilings that have been painted by Moe and his team.
Return on Your Investment
Speaking of investment, improving the exterior of your property – including fresh paint – has a very high return on investment (ROI)* of any home improvement project. For resale, a well-maintained exterior can make a drive-by turn into a potential buyer.
With more than 50 years experience in painting interior spaces throughout southern Vermont, New Hampshire and Franklin, County, Massachusetts, we have the right experience necessary to complete your interior project to your full satisfaction.